During the holiday season of 2016 many of us seen the Simply Fit Board appear in fitness stores, QVC and even Walmart.  The device promises a slimmer waistline, as well as improving your balance.  Does it do all it promises?  Can a simple plastic balance board do all of this?  Read the following review.
What is a Simply Fit Board?
Straight from ABC's Shark Tank the creators Linda Clark and Gloria Hoffmam choose Laurie Greiner as a partner and two years later it's a huge phenomenon.  The board is simply a small curved piece of plastic.  The creators explain it to be "a balance board with a twist".  The fit board can be used easily anywhere: home, office, inside, outside or even while traveling.  The Simply Fit Board can withstand up to 400 pounds without stress or cracking.
How Does the Simply Fit Board Work?
While the creators say the simply fit board is"a balance board with a twist" because you literally twist on the board.   The use of a balance board usually means you stand in one spot and keep the board balanced on either side without it touching the floor.  However,  The Simply Fit Board is constructed to have a curve in the middle that lets you twist while working out.
Every muscle in your core is worked by simply twisting.  You increase your heart rate, which burns unwanted fat in as little as 20 minutes a day.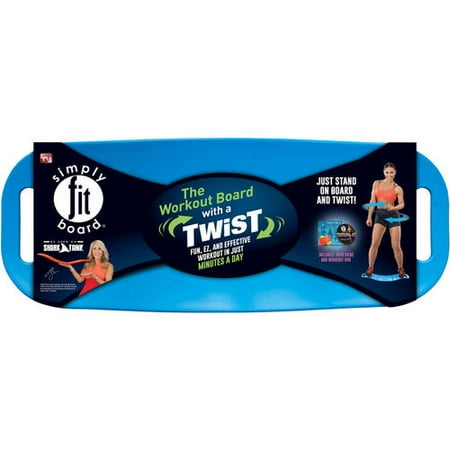 Simply Fit Board comes with a sheet of  10 minute workouts and exercises you can perform. Some of the workouts include:
A simple twist (you stand on the board and twist back and forth)
Twisted bridges (tones your legs)
Squats
Bootcamp
Plank twists (place your two hands on the board while holding the plank)
You can also access  10 minute workouts online at www.simplyfitboard.com.  Challenges are also frequently post there like the "squat and push up challenge" or the "six pack challenge" to keep your workouts varied.
Men and woman of all ages can use this device, even children can use it safely.   There are specific workouts and exercises for kids.
Buying the Simply Fit Board
Electric Blue, Bright Magenta, Vibrant Lime, Radiant Red, and Atomic Orange, all are priced the same.
Unique twisting motion and balance board pivoting action helps Engage and tone entire body
Helps to strengthen ABS, legs, and more
Lightweight, portable, and stores away easily
Unit measures 26 inches x 11 inches W x 3/4 inches D. Weighs 3 lbs, supports up to 400 lbs
Includes User guide and workout DVD
Simply Fit Board - The Workout Balance Board with a Twist, As Seen on...
FITNESS WITH FUN – Simply Fit Board is the effective way to get fit in minutes a day. Twist your way into your fat...
STRONG, ANTI-SLIP MATERIAL – Made from Premium Quality ABS engineering plastic. Lightweight, strong and durable. Your...
LIGHTWEIGHT – Due to its weight of just 3.2 lbs., the Simply Fit Board can easily be packed into a suitcase or...
IMPROVE YOUR BALANCE – Ideal for home training, our balance board is great for men and women alike. Keeps you fit at...
VERSATILE – The Simply Fit Board is the ideal choice for making your workout fun! Use this multifunctional balance...
Simply Fit Board Exercises
There are a few basic moves you can start to perform on the board, including:
The Walk:
Standing with your feet shoulder-width apart, rock the board to walk it forwards and backwards
The Surfer:
Stand with your feet shoulder width apart and squad down low with your arms out parallel to the ground like a surfer riding the waves. Stand back up and repeat the movement.
The Twist:
Stand with your feet shoulder width apart and twist back and forth.
The Rock:
Stand with your feet shoulder width apart, turned so they're facing one end of the board. Then, rock the board back and forth like a teeter totter, making sure to rock in both directions.
Final Words on the Simply Fit Board
The Simply Fit board promises men and woman of all ages a low-impact workout that is fun, easy and an effective way to lose weight.  This board is exactly what you need if you are looking for a low impact workout.
Find Mobility Guardian on Google+
Last update on 2021-12-06 at 05:01 / Affiliate links / Images from Amazon Product Advertising API